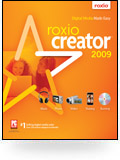 Roxio Creator enables you to do more with your digital media because it's faster, more flexible and more compatible than ever before! With fully integrated technology from over twenty premium products, Roxio Creator enables you to edit, back up, burn and copy all of your video, photos, music, and data seamlessly. So, whether you are sharing your favorite memories with friends and family, or archiving and preserving your valuable data for future use, Roxio Creator is still (and always) the best choice for easy access to powerful burning software.
One product — infinite possibilities™.
Burn CDs or DVDs, enhance photos, edit video or legally download music online.
How is Roxio Creator different from other digital media suites on the market today?

Digital media suites on the market today are a collection of separate, media applications bundled together. Rather than being fully functional products, often some components of these suites are limited or are "light" applications that look and behave differently. In contrast, Roxio Creator is a single application with multiple, full-featured, components that all have a consistent user interface, behavior and workflow.
A lot of time and money was spent on studying how users interact with the software and all of this hard work is evident in the development of an integrated environment so you only need to learn a single workflow and behavior regardless of the digital media task being accomplished. Plus, to save you the aggravation of switching between multiple applications you are normally used to doing, all the tools in Roxio Creator work seamlessly together. As consumers use an increasingly diverse set of digital media devices, this has become a more important requirement.
Burning and Copying
Roxio's reliable burning technology makes recording everything to CD and DVD fast and easy. Burn or copy data, audio, photo, video CDs, and DVDs. Roxio supports the widest range of burners, including the latest dual layer drives, and delivers clear information with CD and DVD diagnostic tools.
Making Entertainment Mobile
New! Create and share online photo stories with fun effects and music directly from Creator
New! Share with family and friends on your private, secure Roxio web page
Transfer your photos or slideshows to iPod, PSP or your mobile phone for on-the-go enjoyment

A 3 step wizard lets you auto-edit your movie. Then upload to YouTube in one click or put it on DVD.

Support for portable devices including the iPod®, PSP™, as well as Windows-based media players such as Samsung's Yepp, audio players, and mobile phones.

Upload video clips and photos to your multimedia mobile phones through a USB or Bluetooth® connection.

Auto-format files for sending to an iPod, PSP or select from a comprehensive list of supported file formats that can be customized to suit any device.
High quality copies made faster and easier
CD and DVD diagnostic tools include CD/DVD Speed Test, CD/DVD Read Error Test, and DVD PI/PIF/Jitter Test

Mount disc images to create virtual disc drives — preserve the original discs, avoid disc swapping and extend laptop battery life

Emulate up to 23 drives and load disc image files simultaneously

Back up your DVDs* and movies with one click
Improved DVD-9 to DVD-5 compression technology copies* DVD-Video discs up to 30% faster

Copy and burn disc image files including popular .iso and .bin/.cue formats

Includes RAW copy mode — for exact copies of discs including hidden or out-of-spec sectors

Create bootable CDs and DVDs to recover your system in case of a crash
Music Made Easy

The digital music revolution is here. Join in. Capture Internet audio for your MP3 player. Discover new tunes with Napster. Preserve music from old LPs and tapes. Create perfect CD or MP3 mixes. Enjoy your music where, when and how you want it with great new features in Roxio Creator.
Discover new music!
New! AutoMix automatically generates perfect playlists. Using sophisticated algorithms to analyze and fingerprint each song in a your library, AutoMix defines a complementary mix of music based on a 'seed' track chosen by you.

New! DVD Music Disc turns any DVD player into a virtual music jukebox with up to 50 hours of Dolby® Digital quality music.

Capture your favorite Internet music or radio shows for your MP3 player library

Extract the audio tracks from live concert DVDs * and create personalized audio CDs or MP3s.
Preserve Your Old LPs and Cassettes - Put them into digital audio format
Easily convert your favorite LPs and cassettes to CD with LP and Tape Assistant

Remove pops, clicks and hiss for a perfect listening experience

Rip audio CDs to MP3, WMA, OGG, and WAV files
Create perfect mixes
New! Send your music to a mobile phone, PSP, iPod or Windows® Media portable player

Enjoy up to 50 hours of music on a DVD with onscreen menus for navigation to your favorite artist, album and genre with Dolby® Digital sound.

Use Sound Editor to create original mixes with smart track splitting and burn directly to an audio CD

Rip and edit audio CD tracks and apply custom sound effects

Automatically import artist, album and song information with CDDB Online Disc Recognition and CD Text support

Normalize the volume of multiple tracks taken from different sources before burning

Copy your favorite music tracks and create greatest hits mixes

Easily adjust the volume, fade-in/fade-out and stereo pan of any point in a track with envelope control

Fit more audio — now supports overburn on 90 and 99 minute CDs with supported drives
Create personalized disc labels, DVD case inserts, and booklets — while you burn

Print labels directly on disc with supported printers and burners (uses LightScribe technology)
Preserve & Protect Your Memories
With PhotoSuite
and VideoWave
, you can make your pictures perfect and your movies the envy of your family and friends.
Capture & organize
New! Rcord to both single and dual-layer Blu-Ray (BD) discs and archive as much as 50 GB of personal data – or 12,500 music tracks, 50,000 photos or four hours of raw high-definition video.

New! Span large projects across multiple Blue-Ray (BD) discs and secure content through disc encryption.

New! Drag-to-Disc® packet writing software offers consumers the convenience and efficiency of dragging and dropping files to a Blu-ray Disc in the same way they would place files on a hard disk or flash drive.

Transfer photos or video to your PC — plug in your digital camera, camcorder or scanner and begin capturing

Easily find the files your want with the powerful search engine

Dynamically browse files by date in Calendar view

Assign tags to categorize your photos by people, places, or events
Make your pictures perfect
Tweak your images to perfection with instant red-eye removal, crop, rotate, and straighten tools

Let advanced PhotoDoctor™ automatically fix exposure, sharpness and saturation

Experiment with professional tools like masking, clone, smart edge detection and effects brushes
Edit video the way you want it
Edit like a pro with advanced Timeline editing, which supports up to 14 tracks and in-place editing

Control the timing of background audio, narration, video clips, titles, and special effects in your production

Let CineMagic® automatically edit a movie for you, complete with transitions, special effects and background audio in 3 steps

Easily substitute backgrounds in your video with powerful Chroma Key effects

Preview and capture only the scenes you want from a DV camcorder with SmartScan

Select from over 300 Hollywood-style transitions, 2D or 3D effects and overlays
Create, share, enjoy your photos
Combine your photos with professionally designed templates to create cards, calendars, and other projects

Create impressive photo collages with advanced control over layers, edge fading, and transparency

Use LiveShare to easily share your photos using peer-to-peer technology. Say goodbye to large email attachments.
Professional DVD tools for everyone
Bring Hollywood home and become your own digital producer. Create professional-quality DVD movies or slideshows with animated menus and a Dolby® Digital soundtrack. Novices and experts alike can impress friends and family with easy and powerful DVD authoring…in no time at all.

Author DVDs like a pro
New! Copy DVD movies to DivX or WMV files and compress to CD or memory card

New! One-click color correction tool, automatic background noise removal feature, a fit-to-disc encoding option, and an automated scene editor to remove unwanted content.

Produce professional-quality DVDs with animated menus, buttons, chapters and background themes

Move & resize menu buttons, add titles and personalize text credits

Plug & Burn™ automatically captures the entire contents of your video camera to DVD — in just two clicks

Edit existing DVD* discs (+VR): append new or remove unwanted content

MS-DVR Support — Edit and create DVDs from Media Center PC TV Recordings

Extract MPEG-2 video files directly from VIDEO_TS VOB files

Burn to DVD, Video CD, Super Video CD or DVD on CD
Copy DVDs and movies
New! Copy your movies easily to iPod, PSP or other device

Burn your TiVo shows to DVD and watch them anywhere. (Only available in North America.)

Easily make high quality copies of your DVD movies — now up to 30% faster

Compress an entire 9 GB dual-layer DVD disc to a standard 4.7 GB DVD disc

Back up the full disc with all video, menus, and extras with one click

Maximize video quality and available disc space by extracting just the main movie, language, and audio format

Download DivX or XviD movies and create DVDs to watch in your living room

Make perfect copies of DVD+VR and DVD-VR discs from set top DVD recorders

Create compilation DVDs from DVD-Video, DivX and WMV files.

Copy DVD movies to DivX or WMV files and compress to CD or memory card size for mobile device playback

Create DivX 6 movies with fully navigable menus
Create DVD slideshows
Create 16:9 DVD video productions and photo slideshows for playback on your widescreen TV.

Combine photos, music and professional transitions into a stunning slideshow

Bring your photos to life and create slideshows with dramatic pan and zoom motion effects

Automatically adjust the duration of your slides to perfectly fit the length of the music
Play Hollywood DVDs
CinePlayer™ plays Hollywood DVD movies, VCDs, and games on your PC

Supports Dolby® Digital (AC-3), 5.1 channel Dolby Digital pass-through, LPCM, MPEG-1 Layer 2 and MPEG-2 2-channel audio formats
Don't lose it! Keep it safe with Roxio Creator.
Your computer is at risk from system crashes, viruses, file corruption, and a host of other disasters. Roxio Creator lets you preserve, protect, and back up your critical data and digital media files quickly and easily. Designed for the non-expert, in the event of a computer failure, it will reliably recover your valuable data, applications, photos, video, music, e-mail, even your operating system.
System backup and disaster recovery
Easily burn and copy audio, data, photo and video CDs and DVDs including double layer DVDs.

Easy-to-use interface, with step-by-step Wizards and simple, clear backup options

Quickly restore a system without needing to reinstall Windows®

Schedule full, partial and unattended backups — no more forgetting!

Save disc space using advanced compression technology

Backup Profiles and password protection give complete privacy

Backup Verification confirms successful backup for peace of mind

Easily restore files to original or alternate location

File versioning restores the exact version of the document you select

Back up everything from local or network computer systems

Completely recover your data and applications in case of a crash, system failure or other disaster

Configurable Disaster Recovery option allows restoration of hardware settings
Back up to:
CD or DVD discs including DVD+R DL (Double Layer), Blu-ray and HD-DVD

Hard drives including USB and Firewire external devices

Tape Drives: 8mm, ADR, AIT, DAT, QIC, Travan

Removable media : Zip, Jaz, MO and LS-120 Superdisk

Network and shared devices

Supports all major CD and DVD formats
Plus, Roxio offers good lines of support for Roxio Creator including extensive PDF user guides, video demos and additional online resources. Roxio also offers a searchable knowledge base and discussion groups with active responses from knowledgeable technical staff members.